We provide excellent service and maintenance of biomass and solar systems in England and Wales.
How much is a biomass boiler, this is the main question peoples ask if they consider installing biomass boiler system at home or biomass boiler industrial.
Answer for that question is not easy because about biomass boiler cost decide several factors. Cost of biomass boiler depend on how big is your home, biomass boiler must fits your house demands, it means need to the cost of your biomass boiler will vary depending on household needs.
What Factors Affect Biomass Boiler Prices?
The largest price changes are dependent on the size of boiler, the level of automation of the boiler and the brand of biomass boiler.
About the cost of a new biomass boiler decide:
cost of boiler
installation costs
biomass storage capacity
output size
other additional features, like automatically feed of biomass
costs of maintenance
The full cost o biomass boiler and installation will range between £4,000 and £20,000, but you should remember that the cost of your biomass boiler will vary depending on your household needs. Before you will decide to install the boiler, first you should to do research to ensure you're saving the most money as possible.
To reduce the cost of biomass boiler you have the right to apply about a grant from the Boiler Upgrade Scheme, and you can save as much as £5,000.
What you should to do to successfully apply about a boiler grand, you can consult with specialist from Proadvance.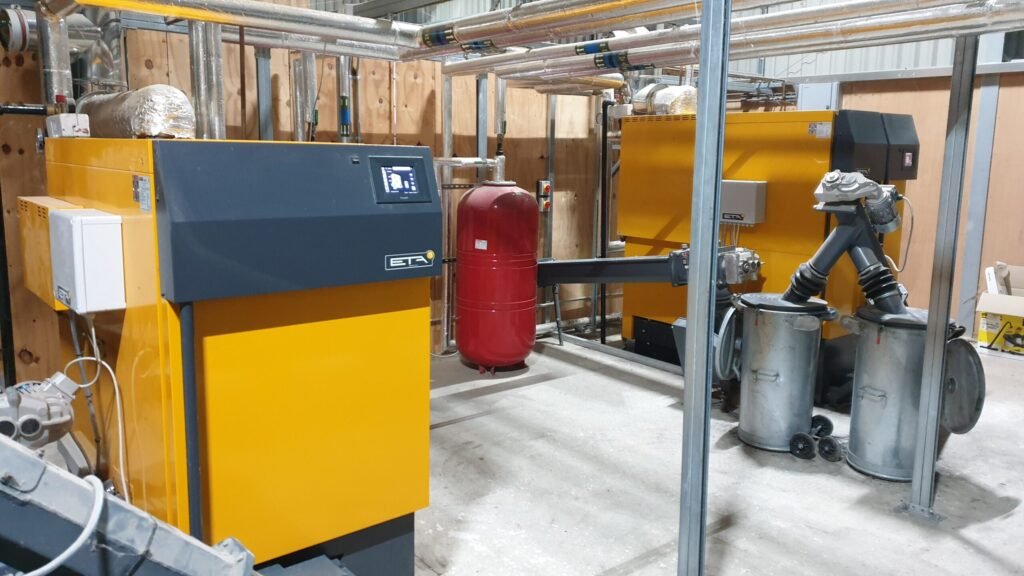 What is a biomass boiler, and how do biomass boilers work?
Biomass boiler is a boiler which have to provide heat to heat the house or flat.
Biomass boiler work by burning biological matter and outputting the heat for use in home heating system.
Biological materials like wood pellets, chips or other biological materials are fed into a combustion chamber where they are ignited.
Biomass can be to send to boiler by hands, automatically or semi-automatically.
The hot air and fumes produced by the burning process travel through a boiler flue, and then pass through a heat exchanger, where transfer the heat to the water to make this water to be hot.
Water from the heat exchanger is used in the property's central heating system. The excess heat is stored in a buffer thermal tank.
Every biomass boiler can usually easily be integrated with any existing at home heating system.
Biomass boilers are a low-carbon and renewable energy source, because there we burn plant material to generate heat. 
A biomass boiler can help you save money on your energy bills, because cost of biomass and cost of boiler maintenance will be cheaper than cost of electric or gas used to make heat for a home heating system.
To install biomass boiler at home, you can make use of the government's grant Renewable Heat Incentive (RHI) and this way you will reduce cost of boiler installation. About biomass boiler cost of installation, you can read above or call to Proadvance to get more information. 

Also check out our Top Tips that will help you take care of your system and know when it's time to get in touch.
We cover England and Wales and we are base near Reading, Berkshire.