We provide excellent service and maintenance of biomass and solar systems in England and Wales.
ProAdvance is dedicated to the service, maintenance, repair and system improvement of a full range of biomass boilers and solar thermal heating systems throughout England and Wales.
My name is Marek Zawadzki, and I have been a Biomass and Solar Thermal service engineer for over eight years. I set up ProAdvance to put my extensive experience to use, and today I pride myself on being able to deliver an exceptional standard of service to all of my customers.
While delivering the service, I carry out all of the essential checks recommended by the manufacturer, as all engineers do, but unlike other engineers, I go much deeper. My main objective when delivering this service is to have your system working at its optimal condition and prevent any future breakdowns.
I have an engineering background and gained qualifications at college and university, however, my expertise with renewable systems began eight years ago. I have worked on and become an expert in the maintenance and repair of all the principal Biomass and Solar Thermal brands made in Austria, Germany, Italy, Finland, Sweden and beyond. I have also trained with the manufacturers themselves so that I can fully diagnose and analyse the mechanical, hydraulic, electrical and electronic aspects of their systems.
At Proadvance we work closely with the leading manufacturers and their local distributors to ensure we are up to speed with the latest product developments, technical and software upgrades and, because we hold a stock of the crucial components necessary for repairs, servicing and maintenance.
We are proud to inform that Proadvance Ltd is chosen to be the Best Biomass Boiler Service & Maintenance Company 2023 – UK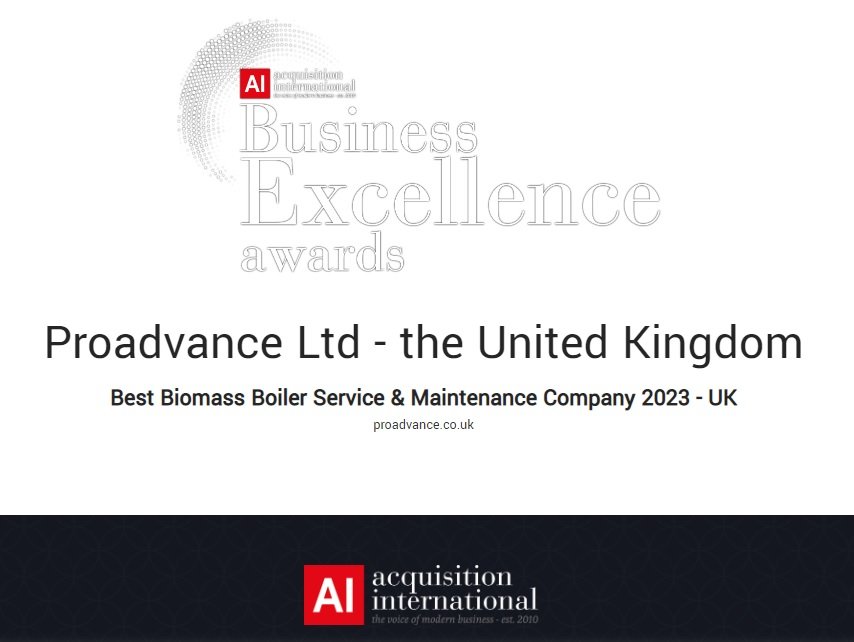 Also check out our Top Tips that will help you take care of your system and know when it's time to get in touch.



We cover England and Wales and we are base near Reading, Berkshire.